Williams Releases Statement about Teller County's "Big Government"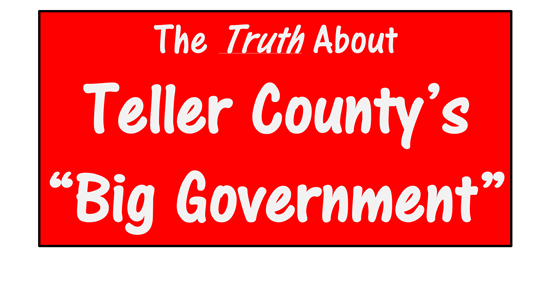 It is interesting that those outside of our County's government, and trying to become part of it, often label seasoned and experienced public servants as "big government" or "power hungry bureaucrats."
No matter how many times someone may try to channel their inner Ronald Reagan by repeating this over and over, he is actually showing how little he understands our County's Government and Guiding Principles because nothing can be farther from the truth.
Dan Williams has always been part of lean organizations, made the organizations he led even leaner as a Senior Army Commander and now as our County's Senior Planner. Dan is a limited government leader whose hallmark is to find and gain efficiency in any organization he has been part of.
Rather than cheap hyperbolic sound bytes suitable for the most breathless of cable news personalities, Dan Williams challenges us to have a facts and principles-based discussion on "responsible government."
Those of us familiar with government, in particular Teller County Government, know just how lean of an organization Teller County really is. It is simply ridiculous to refer to Teller County, as "Big Government" or those of us who are privileged to work in Teller County as "Big Government" people.
By design, we are small government. There are around 200 employees and elected officials on any given day that serve nearly 26,000 people. We provide necessary and essential services to our residents such as keeping the roads maintained and law enforcement—core functions of any government and services at which we are particularly excellent. We have a very small budget for the services we do provide and our employees do not make the income many of them could make in the private sector. Each person working for the county has job description that includes, "and additional duties as assigned" and has been doing more with less for many years—just ask our Sheriff's department.

Dan Williams has a verifiable record of performance and accountability in serving County Government, understands exactly what it is and what it isn't. Dan is for limited and small government and has been living that reality for 5 years. In fact, his success as a public servant allows the county to let 4 additional positions go unfilled.

The real focus should be Responsible Government that provides exactly what our residents need. Our mission remains to protect our residents' life, health and safety.

Growth and change is coming to Teller County and what Dan does know is that the size of Teller County government will NOT be increased correspondingly, making it even more vital that we must continue to attract the best and brightest folks to local government, both as elected officials and as employees. This will continue to be a challenge for many due to the lack of housing and the pay that most public servants receive. They deserve better than to have their service cheapened by being labeled as "big government" simply because they work for County Government. "Big government" is a term that should be used for bloated Federal or State organizations which in many cases have become too large. Teller County does not have that problem and we should focus on hiring or electing the best people we can find that can run complex organizations on lean budgets with just a few people.

Dan Williams understands Teller County Government; he has been a critical member of the Teller County Team for 5 years, has worked very closely with department staffs, elected officials and our County Commissioners and has an outstanding record of success.
He is the clear choice to continue running a limited and lean government with a small budget while still caring for our residents and protecting their life, health and safety.