Supporting Woodland Park's Oktoberfest & Republican Red Tent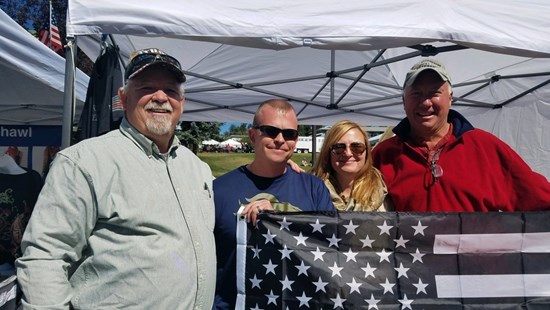 Dan Williams thoroughly enjoyed the opportunity to support the Teller County Republican Central Committee's "Red Tent Event" on Sunday, September 22, 2019.
Set as part of the City of Woodland Park's Oktoberfest, this was a great opportunity to get the word out on Proposition CC.
The Teller County Republicans at the event, including Commissioner Candidate Dan Williams, had the opportunity to talk to people about the upcoming vote [NO] on this proposition, which would put the Senior and Veteran's Exemptions at risk.
There was also time to meet with local vendors including an up and coming new brewery in Teller County called the "Blue Line Brewing Company."
Teller County Republican Chairman Erik Stone and Dan Williams presented the owners a thin blue line flag and wished them well at the event.