Dan Williams Speaks Out at the Teller County Big Tent Event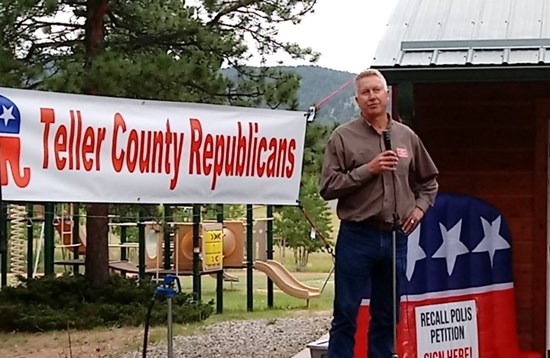 Candidate for Teller County Commissioner, Dan Williams spoke out yesterday at the Teller County Republican Big Tent Event.
Points he emphasized include the proper role of government, Teller County's changing demographics as all of Colorado grows, and his deep experience in shaping both the widely respected Ordinance 20, addressing the growing challenge of vagrancy and camping in Teller County, and the detailed and thoroughly coordinated Teller County Strategic and Operational Plans and the draft Growth Management Plan.

The popular annual event was widely attended by local, state and federal leaders, to include the highly respected University of Colorado Regent, Chance Hill who announced his endorsement of Williams for Teller County Commissioner earlier.
With regard to the proper role of government, Williams strongly reminded attendees that his current role as the Planning Official for Teller County is just one example of how government can be successful in enabling growth while preserving Constitutional Principles and Teller County's natural beauty and environment. This proves Dan Williams' understanding of the proper role of government without relying on the simple "get out of the way" sound byte. Its a delicate balance between the rights of individuals and Teller County's ability to govern a rapidly changing demographic.
Heads nodded across the audience when he reminded them that a large number of attendees personally relied on his expertise and judgement to come to mutually beneficial resolutions regarding land use challenges between property owners. Similar responses from the audience were noted when he made the point that none of this would have been possible if his role was simply to get out of the way. This is about judgement and personal skill--both attributes have propelled Williams to the forefront of respected county officials.
Finally, Dan Williams reminded attendees that his is the only Veteran in this race. He further emphasized that the attributes which made him successful in the 30 years of his military service--personal integrity and accountability, organizational skills, ability to generate, absorb and apply guidance and vision, and a keen ability to care for folks while preserving their rights and sense of self-reliance--will absolutely serve Teller County well when he becomes Teller County Commissioner.
Dan Williams can be reached for comment and questions through the links on this page.