Coffee with the Sheriff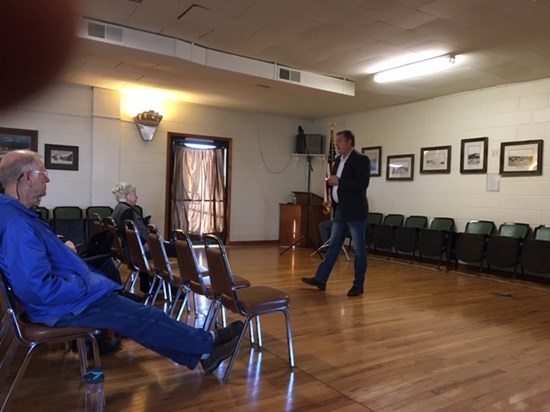 Candidate for Teller County Commissioner, Dan Williams attended Sheriff Mikesell's Quarterly Community update meeting "Coffee with the Sheriff" on October 18, 2019 in Divide. This is a critical law enforcement update to the community that is highly informative for citizens who are afforded an opportunity to ask questions directly of our elected Sheriff. Our Sheriff gave an outstanding update covering everything from daily operations to his work at the Federal level on ICE and other immigration issues and the current ACLU ongoing challenges.

Today's topics included the new radio system in Teller County, the Narcotics Task Force, the Sheriff's work with ICE and other Federal entities on combating crime in Teller County and many other critical topics. During the nearly 2-hour session the Sheriff complemented our County Commissioners for their support of law enforcement and the increases in staffing and budget that will be announced in the coming weeks.
Dan Williams was the only County Commissioner Candidate in attendance, taking vacation time from his duties as the Planning Official for Teller County to attend – it's that important.
Dan fully understands that the primary role of a County Commissioner is to protect the life, health and safety of our County's residents…and our law enforcement community is a direct enabler of that mission…nowhere is that more apparent than in the brave men and women of our Sheriff's Department and in our City Police Forces and other first responders.
Without the rule of law in place and our law enforcement community fully supported by our County Commissioners nothing in our County can be truly successful or long lasting. Our demographic is changing and as our county grows, our law enforcement teams will be additionally challenged and must be supported fully.
They have Dan's full support now and will have it in the future.