Dan Williams on Teller County Issues
Ordinance #20, "The Camping Regulation"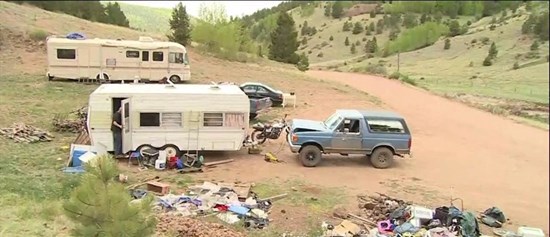 Something I am very proud to have helped to shape, was Ordinance #20 which exists for one reason – to protect individual property rights in Teller County not, as some would argue, to abridge them. I applaud our County Commissioners for approving this ordinance and it has been effective. The request for action with this problem came from our people and working with them, over many months and our public process including multiple hearings where many of you came to speak in support, we are beginning to see the tide shifting and property rights protected.
Ordinance # 20 was introduced for two primary reasons – a growing vagrancy problem in Teller County and the use of Recreational Vehicles as residences. Being in close proximity to large urban areas in El Paso and Douglas County, these problems grew in proportion and Law Enforcement was unable to act without an ordinance. This ordinance was developed in direct response to what our population wanted – the protection of individual property rights for all.
Imagine as a property owner, returning from Arizona in the spring, you arrive at your property only to find someone living in your trailer, house, or passing themselves off to others as the property owner. Imagine a small two-bedroom house, with a small permitted septic system designed for the house only, that now has two additional trailers with 12 people living in them, using sanitation facilities, producing waste …and being a neighbor with a well 100 feet away. Caffeine does not naturally occur in water…but on top of rising nitrite and nitrate levels, trace amounts of caffeine were found in drinking water samples of adjoining property owners. One property owner's waste being consumed by another unknowingly - this is a life, health and safety issue, and is exactly the kind of responsible government activity that protects property rights and property owners. These are minimum standards not onerous government overreach. Some of our subdivisions are 50 years old and residents and local government must be mindful of aging infrastructure and its potential impacts to all property owners.
Ordinance #20 has been incredibly successful.
It has been several months since Ordinance #20 has been in force. We are watching trends and patterns. Vagrants are leaving the county and the use of RVs as residences is down.
For property owners who would knowingly abridge the property rights of adjacent and adjoining property owners, by over burdening septic systems to the point of failure, impacting water quality, and allowing personal greed to abridge your property rights - this ordinance has also been effective. To be sure, it is a final recourse, not the first action taken. All property owners are treated with respect and dignity, for most, it is simply a matter of education and behavior change occurs willingly once informed.
For a few, only law enforcement can obtain compliance – in these cases, county government must engage for the good of all property owners and law enforcement must be able to do its job.
I am proud of the entire county's hard work on this ordinance and our leaderships decision to bring about Ordinance #20, and I stand behind it.
---
Colorado Red Flag Law
House Bill 1177: Colorado's Red Flag Bill
As a combat veteran who has defended our freedoms and sworn an oath to uphold and defend the Constitution, I stand with our Sheriff and our Party - this law is wrong and is unconstitutional. It is a serious abridgement of personal rights. For example, anyone who wishes to can call law enforcement and state that someone is a threat to themselves and others, without proof. Due process has been cast aside and now, the burden of proof is placed on the accused to clear his good name. Secondly, taking away our firearms under this pretense, with no proof or due process, is denying us the ability to keep and bear arms. This is a bad law anyway you slice it. Frankly, I trust our law enforcement team and its leadership to make decisions "in real time", they need more latitude not more restrictions on their ability to keep the peace.
---
The proper role of County Government
To be clear, this election is about choosing a leader not a referendum on changing our county government. Those who believe that government's role is to "get out of the way" do not understand the Rule of Law, the functions of government and generally have no experience in government or real leadership. Teller County is at a critical time in its history. We need engaged leaders with verifiable records not campaign talking points. Our demographic is changing. Our currently serving Teller County Commissioners understand and embrace the long standing philosophy in Teller County that the role of government is a careful balance between the rights of individuals and their ability to govern all of us for the public good. These are not onerous regulations but minimum standards that insure we will all have a high quality of life in Teller County where individual rights and those of your neighbor, are respected. After all, their prime directive is our life, health and safety - that is my pledge as well.
---
Leadership
I have been a leader my whole life. I have collectively served my country and my county for over 35 years. Good leadership is universal, those who possess it are successful in industry, government and the military. The lessons and the principles are the same. I have been called a servant leader many times over the years I did not give myself that title. It simply means you have actually led and actually served....and did it for all the right reasons - the people entrusted to you and not for yourself or personal gain.
I did not enter this race to reinvent myself or try something new. Teller County residents should not have to be part of a leadership experiment. They deserve better. County Commissioner is not an entry level service position. Our candidates ought to be the best we can find. People of character, a verifiable record of leadership and service, experienced, and accountable who really understand the depth of the issues and can be ready on day one.
I accept that most folks that seek public office are 'good people with good intentions'.....but....the road to ruin has often been paved with good intentions......we need leaders who actually know what they are doing just like any of us would expect of an employee or new hire.
Good leaders understand their role as part of a team. They are equally comfortable following or leading and instinctively know what right looks like. The Board of County Commissioners is a team and we need team players.
Teller County deserves the best leaders it can find. The stakes are far too high at this point in our history to accept anything less.
---
Veterans
I am the only candidate for Commissioner that is a Veteran. While there are many ways to serve, in a county where nearly 1 out of 4 have served this Nation in military uniform I have a deeper understanding of the needs, concerns, and unique abilities of Teller County Veterans.
As combat veteran I know that the principles of freedom and liberty are far more than campaign talking points because like other Veterans - I have fought for them. Less than 1% of our Country has served in the military, and like our law enforcement community, those that have bring special skills, experience, strategic thinking, personal courage and innate leadership ability to elected office.
In Teller County I command American Legion Post 1980, I am a member of post 6051 VFW, I manage the Veteran's Trust fund with our team for Veterans, their families, and widows in need.
---
Christianity
Yes....I am a Christian, an imperfect one and a work in progress... but rather than tell you I prefer to let my deeds and actions communicate this to you. The wisdom of Mathew 6-6 speaks volumes to me.
---
The 2nd Amendment
I was a warfighter for 30 years, trained to use weapons from side arms to hellfire missiles. I am a concealed carry permit holder and an avid hunter. Their use and purpose is not theoretical to me. I understand their role in keeping the rule of law in our Country and our County. I respect them and will fiercely guard the assurances our Founding Fathers gave us with regards to them.
---
Growth in Teller County
In the next 10 years Teller County will grow. Change is coming. Our county of nearly 26,000 lies north of a county with 730,000 and south of a county with 340,000 and the pressures are mounting. Traffic, housing, a changing demographic and many other challenges all await the next Board of County Commissioners. The question is, will that change be driven by the short-sighted greed of a few or by the collective will of our people? What do you want our county to look like in 30 years? It is estimated that by 2050, Colorado will add the equivalent of another metro Denver to its population or an increase of over 3 million, reaching some 8.46 million residents. We had better be ready for our share of that growth. What legacy will you give to your children and grandchildren? We are at a very critical point in our history - this is a fight for the soul of Teller County. Teller County growth must be managed growth accomplished through transparent, open and fair processes. Every proposal must examine both opportunities and the challenges that accompany growth. We must also have the courage to not grow in places we set aside for the next generation, like those who came before us did for all of us. Carefully managed growth can maintain our Western Heritage and our County's natural beauty, and what remains of our agricultural heritage while modernizing and providing for the inevitable growth. This is truly an issue in which all of our residents must become involved...they must become activists...change and growth must be predicted, planned for and managed. Growth management will require engaged leadership at all levels and open dialogue. I am ready to help manage the growth that's coming and will listen to our residents, work with our commercial partners and business communities and our cities to transition into the future with eyes wide open and strategic planning and forethought. We will truly "embrace the future and protect the past"
---
Relocation of the BLM Headquarters
The efforts of Senator Gardner to move the Bureau of Land Management Headquarters to Western Colorado are to be commended. With over half of our County being under Federal jurisdiction (BLM and US Forest Service) having access to and leadership within our state will help in the years ahead as we meet many of the same challenges.
While we engage with local BLM leadership, such as the Southern Shooting Partnership initiative, the former headquarters was in Washington D.C. makes it difficult to have leadership do on the ground assessments or review local proposals under consideration, for example. Our relationship with our BLM partners inside of Teller County will only get better with its leadership located in our State.